A luxury swimming pool is far from ordinary: it is technically and artistically complex, composed of custom design amenities, intricate forms, and opulent materials—from rock grottos and waterfalls to vanishing edges and raised spas to shimmering Italian glass tiles. Just as a luxury pool requires exceptional details, it also demands exceptional care.
AUTOMATIC POOL COVERS
Automatic pool covers help sustain the pool's cleanliness by shielding the structure from the elements. It also provides a safety barrier and limits the evaporation of heat, chemicals, and water which results in both energy and fiscal savings.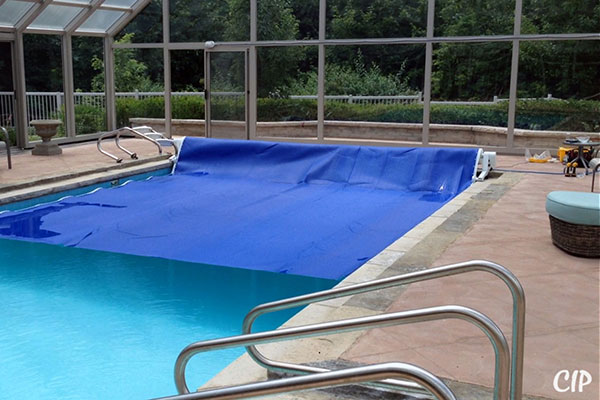 Many homeowners opt for automatic pool cover systems because of their convenient operation and aesthetic appeal. Affixed to recessed tracks that run alongside the pool, automatic pool covers operate at the push of a button or turn of a key and retract into a hidden cover-box when open, concealing the cover and its mechanism so they do not inhibit the design of the poolscape.
Additionally, a wide selection of colors makes it easy to coordinate the cover with any backyard setting, thus further helping to maintain the integrity of the swimming pool environment when the cover is closed.
COVERING UNIQUE SHAPES
Since automatic pool covers operate on linear tracks, they can only be rectangular in shape. This poses certain engineering and construction challenges when dealing with the artistic layouts and decorative features of high-end custom pool designs.
When installing an automatic cover on freeform pools, for instance, pool builders or contracted installers must construct an outer, slightly raised rectangular deck that borders the entire width and length of the pool (this is a construction technique known as deck-on-deck). The cover tracks are installed under the coping of the raised deck, providing the automatic cover its rectangular shape so that it can open and close over the freeform pool and lower deck.